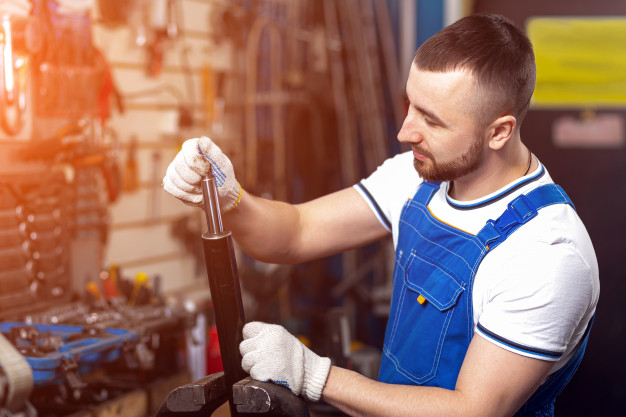 Suspension Rebuild & Revalve – What to expect ?
Here we talk about the need of damping adjustment & the limitations of prevalent adjustable damping shocks. Zedling Suspension believes that the value created by adjustable damping shocks in terms of adjustment overlooks some serious performance compromise & this makes adjustable shocks not the ideal choice for motorsports rider looking for performance.
Suspension rebuild refers to disassembling & re-assembling the suspension assembly by cleaning the internal components, replacing wear components & filling fresh damping oil to correct specification. Suspension rebuild becomes inevitable since internal components wear & oil deteriorates its properties due to continuous friction & temperatures generated. Avoiding or delaying suspension rebuild results in compromised handling & inadequate shock absorption resulting in understeer & oversteer issues apart from concerns like bottoming & topping. After rebuilding the suspension you can expect to achieve the performance very close to new suspension & enhance its useful life.
Suspension revalve is an important upgrade to improve the shock performance to better suit rider skillset & specific needs. Suspension rebuild can address performance issues like understeer, oversteer, squatting, ride comfort, handling, etc. Suspension revalve becomes mandatory for performance motorsports viz., road racing or off-road. Suspension revalve refers to modifying the piston valve set to modify the damping properties to achieve the desired suspension performance which improves the bike's cornering stability, high-speed control, bottoming behavior & rider confidence to tackle different terrains.

Suspension rebuild is comparatively simpler than suspension revalve since it does not involve modification of performance however it needs to ensure error-free rebuild & cleanliness during a build. Performing suspension rebuild in contaminated environment results in entrapping foreign particles inside the oil chamber resulting in compromised performance & early wear. Suspension revalve is a more technically complicated & sensitive exercise which must be done only by an expert. This is due to the fact that suspension revalve needs a combination of theoretical knowledge & practical experience which is often referred to as an art since there are no fixed principles or procedure.
Suspension revalve is done by modifying the piston valve pack which involves altering valve sequence, addition or subtraction of valves & installing new valve spring in order to modify the damping forces at low, medium & high speed in rebound or compression stroke. This modification of damping forces is objectively represented by below damping force vs velocity behavior & is an important measure of revalve exercise. Hence it is necessary to measure these damping forces on the damping test system & verify the achievement of intended performance.
The change in damping forces in rebound & compression stroke alters the handling of a motorcycle by affecting under-steer & oversteer behavior. This also improves high speed & cornering stability as well as vehicle pitching behavior.