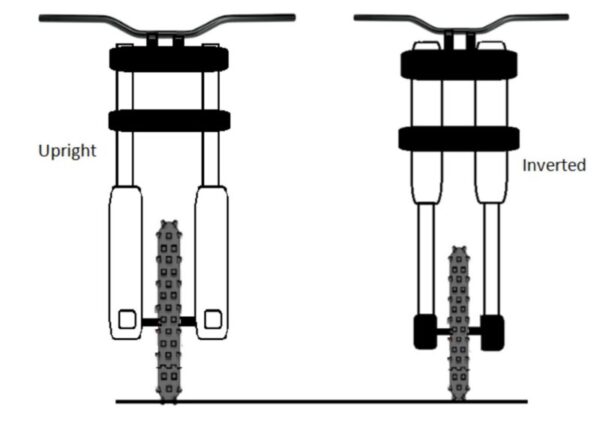 Motorcycle Inverted forks-Not just about looks
Recently you see an increasing number of bike models equipped with an inverted fork. Inverted forks, also called upside-down or USD forks are essentially a large leap in technology over the conventional telescopic forks.
These inverted forks look sporty & add considerably to the overall appeal of the bike. Visually these inverted forks appear as the conventional upright telescopic forks are fixed on a bike in an inverted manner. This inverted fitment of forks on a motorcycle brings a major change in its rigidity. Irrespective of upright or inverted, every fork has an inner telescoping tube & an outer tube. Every fork is clamped on the motorbike with lower triple clamp & an upper triple clamp. Lower triple clamp is the main structural component against which the forks bend & it holds the fork.
In the case of conventional upright forks, the lower triple clamp holds the inner tube & in case of inverted forks, it holds the outer tube. This fact alone is the reason for all the rigidity of an inverted fork. The obviously typical diameter of the inner tube is smaller than outer tube & holding a bigger diameter tube offers higher bending & torsional stiffness to the complete front end of the motorcycle. Consider holding an inner tube of diameter 37/41/43 mm against holding an outer tube of 48/52/55 mm.
This improved rigidity to bending & torsion results in
Enhanced handling of the bike
Better braking stability
Better fork response
Additionally, these inverted forks also reduce the unsprung mass of the bike's front suspension resulting in better ride quality however this benefit is quite a minuscule in typical applications.
All said & done, do you need inverted forks?
Typical street bikes used for commuting, touring or mild off-road do not test the rigidity limits of conventional telescopic forks hence the inverted forks have less to offer & not more than a meatier look to the bike. However, this scenario completely changes when you are racing or doing serious off-road. Inverted forks offer the needed response & rigidity for achieving the reduced lap times as well as the improved rider confidence for adventure bikers. These inverted forks deal with the big bumps of the extreme off-roading well due to its enhanced rigidity.