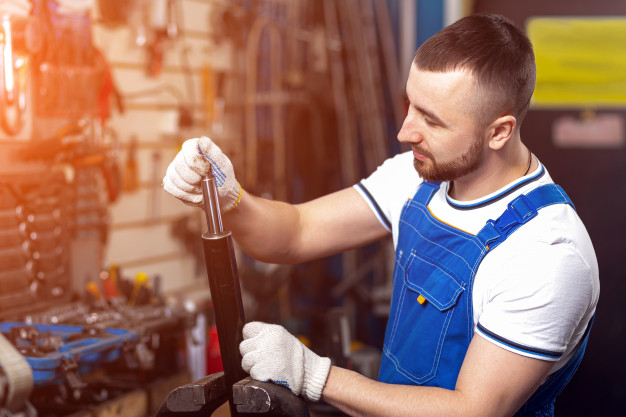 How to Adjust Ride Height in Zedling's Suspensions
This Ride height adjustment feature enables the rider to adjust the handling behavior of the bike.
By raising the rear monoshock height the rake angle can be reduced.
By reducing the rear monoshock height the rake angle can be increased.
Step #1 : Mount the Shock Absorber
Remove the shock unit fro motorcycle and mount it in a soft jaw such that the piston rod is upwards, as shown in image below.
Step #2 : Measurements
Measure the distance as shown in the image & record the value. Use scale or vernier to measure the distance. Vernier caliper provides accurate measurement.
Step #2.1 : Decide How Much Change in Ride Height is Required
1 mm change in shock length results in 2.5 to 3.5 mm change in pillion seat height (depending upon the suspension geometry of different bikes).
Step #3 : Adjusting the Ride Height
Hold the adjusting lock nut using 32 mm spanner.
Unwind/open the extension mounting with 27 mm spanner.
Then rotate the adjusting lock nut freely till bottom.
Rotate the extension mounting to position such that the target distance is achieved.
Check the previously recorded dimension to know the difference in ride height.
Ensure that minimum 10-12 mm threads are engaged with the extension mounting.
Keep the extension mounting in desired position & rotate the adjusting lock towards the extension mounting & lock with hand.
Then hold the adjusting lock nut with 32 mm spanner & tighten the extension mounting using the 27 spanner against the adjusting lock nut with 3.5 Kg-m torque.