ZG-ST3 ATV Coil over shocks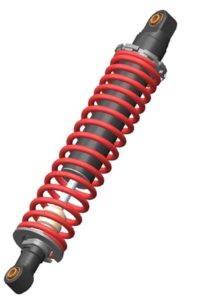 All-terrain vehicle (ATV) is also known as quadricycle & is meant to handle a large variety of terrains. The suspension system of ATV is typically a double wishbone system which is suitable for achieving a lower center of gravity for different sports events viz., Baja SAE. The double wishbone is equipped with shock absorber which is either a coil over shocks or an Air shocks.
Coil over shocks uses helical coil springs to withstand the loads whereas air shocks use an enclosed air chamber which sustains the entire load coming on the wheels. The damping system is necessarily a hydraulic piston-cylinder arrangement with pressurized nitrogen in both these shock absorbers.
Coil over shocks constitutes helical coil spring of single or multiple rates fixed with a specified preload over the shock absorber. Coil over shocks also generally uses bump stopper to take the higher end loads to avoid metal to the metal touching condition. The spring wire size of coil springs depends on the amount of load on the shock absorber.
Ride height/Rider sag can be adjusted independently of spring rate using spring preload adjustment
Required spring stiffness is maintained by the coil spring which can be achieved with no compromise on ride height and end loads
Complete shock absorber stroke is utilized for offering suspension function
No change in spring stiffness due to higher damper temperatures in extreme endurance conditions